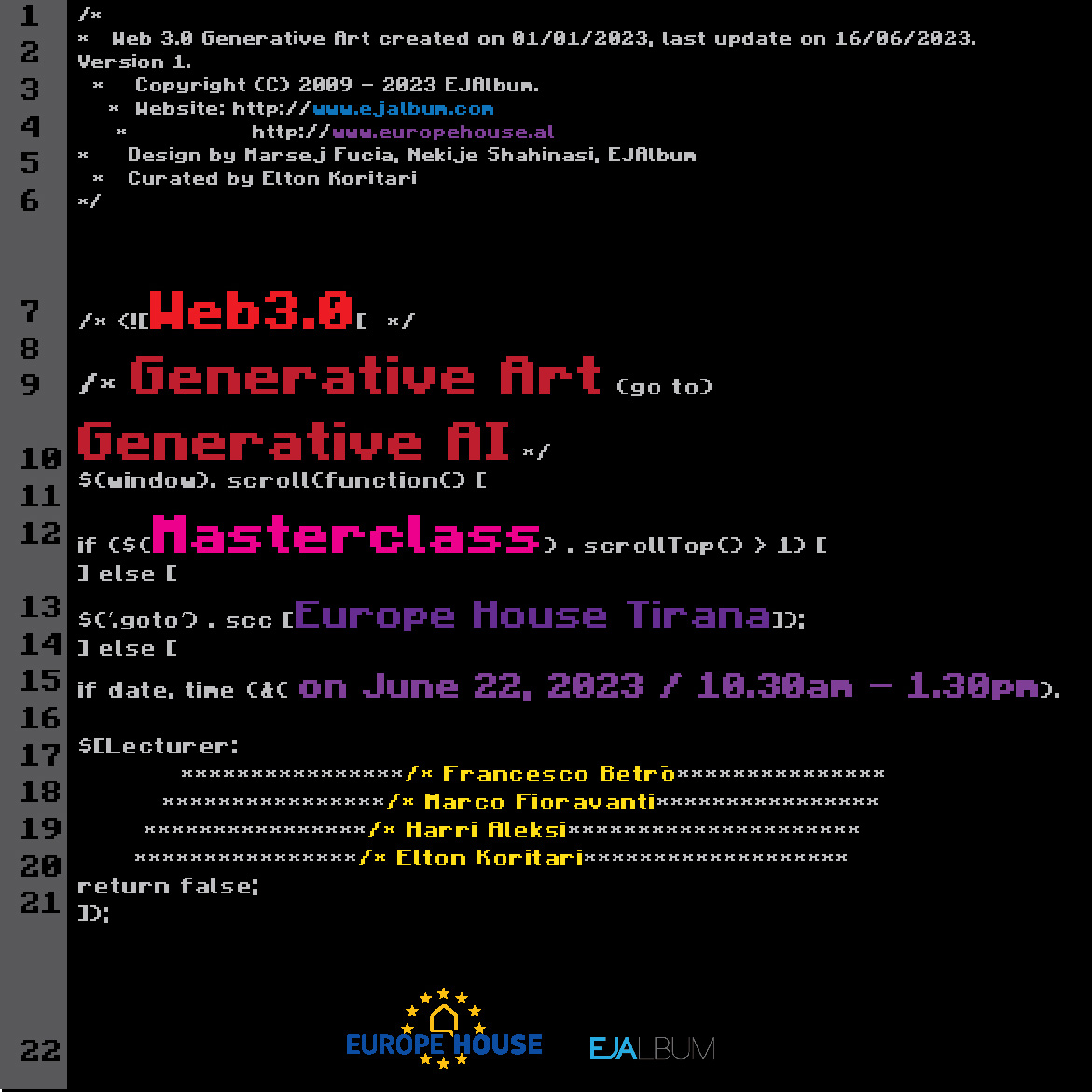 Europe House Albania
June 22, 2023
10:30am – 13:30pm
This masterclass proposes an introduction and overview of the history and practice of Digital Art, Computational Creativity, Artificial Intelligence and of course, Generative Arts, especially in this important moment of expansion of those media in the art market but with an emphasis on the formal paradigms and algorithms used for generation. We want to inspire the young Albanian artists and transfer to them skills that helps to explore their potential to create art, music, novels and valuable artifacts in the era of NFT, D.A.P, Web 3.0, Chat-GTP, Metaverse, Blockchain, ect. and of course, all this in an aesthetic experience.
PROGRAM
10.30 – 11.00 – Welcome Meeting & Presentations
11.00 – 11.30 – Generative Art by Harri Aleksi, Lector of University of Arts in Albania.
– A case study of Generative Art by the artist.
– A short introduction in Generative Art History
11:30 – 12:00 – BlockChain & Web3.0 – Ing. Francesco Betrò, Ceo of MustNode srl, Roma, Italia
– The difference between Web2.0 and Web3.0
– The power of BlockChain & Community
– Digital Assets & Web3.0 Aplications
12:00 – 12:30 – Coffee Break / Snack
12:30 – 13:00 – Dr. Marco Fioravanti, Co-Founder of MustNode srl
– Web3.0 and Arts
– Smartcontracts and the world of Nft, Defi, Dao etc.
– Workshop with Participants: opening a Wallet, launching a collection
– Workshop with Participants: digital artwork on Polygon
13.00 – 13.10 – Ervin Bërxolli, Invited artist
– From Traditional art to the digital one
13:10 – 13:20 – Luca Pescatore – IT & EU Digital Expert – Web3.0 as an ecosystem of values
13.10 – 13.30 – Individual lessons with participants
13.30 – Closing of Masterclass / Coffee break with participant
It will be an all day long dedicated to arts and applications. You are also all invited in the Oppening of an Exhibition and its educational program:
19:00 – Exhibition & Workshop with students of University of Arts in Tirana, Graphic Picture Departments .
Exhibition curated by: Harri Aleksi & Lindar Muci. Workshop in Web3.0 with Francesco Betrò and Marco Fioravanti.
Free entry / limited places.
Please contact at: info@ejalbum.com
This masterclass is one of a series of our New Skills Program. It comes with big questions in a perfect timing: The bizarre combinations of images, videos, and music generated by Artificial Intelligence algorithms are increasingly entering the common imagination. But this close intersection between art and technology raises several questions: Can a machine create works of art autonomously? If yes, what is the future of artistic production when it is no longer exclusive to humanity? What are the limits and risks, but also the potential, of this type of art?
Let's start a discussion about it.
Organized by Europe House in Tirana, sponsored by European Council in Albania. An idea of EJAlbum. Curated by Elton Koritari and of course, EJAlbum Team.